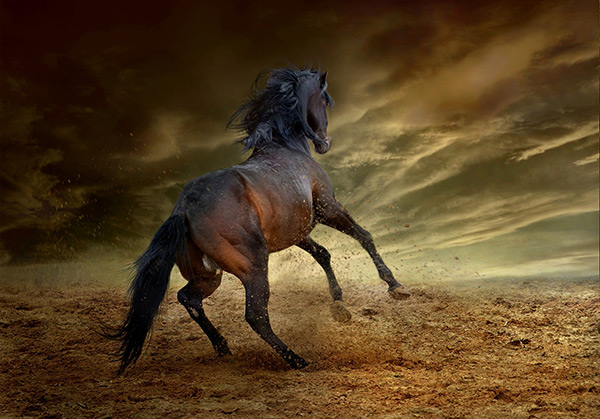 A horse is a vain thing for safety: neither will he deliver any by his great strength.

Psalm 33:17
During the period of the divided kingdom of Israel and Judah, horses played a very important role in Israel's economy and warfare (cf The Horsemen of Israel by Deborah Cantrell). They were a major part of her war machine. The horse itself is a creature of beauty and strength. Able to be used for offence or defense.
Psalm 33 starts off with the call to praise God, "Rejoice in the LORD… for praise is comely. Praise the Lord with harp… Sing unto him a new song." (Psalm 33:1-3).
We are reminded of the reasons why He is to be praised.
For the word of the LORD is right; and all his works are done in truth. (Ps 33:4)
His truthfulness assures us of His promises.
He loves righteousness and judgement: the earth is full of the goodness of the LORD. (Ps 33:5)
He is good and His attitude towards us is one of loving kindness.
By the word of the LORD were the heavens made; and all the host of them by the breath of his mouth. He gathers the waters of the sea together as a heap: he lays up the depth in storehouses.

For He spake, and it was done; he commanded, and it stood fast.

Psalm 33:7, 9
He is not only truthful in his promises and good in his thoughts towards us, but he is also able. He can make things happen.
The LORD brings the counsel of the heathen to nought: he makes the devices of the people of none effect. (v.10)
Men can plan and scheme, but without the blessings of God it will come to nothing.
There is no king saved by the multitude of a host: a mighty man is not delivered by much strength. (v.16)
And we see the reference to the horse. It is a powerful animal. It has won victories for Israel. It is a way of escape when the odds are too great. Yet God reminds us that we cannot count on it.
Behold, the eye of the LORD is upon them that fear him, upon them that hope in his mercy. (v.18)
Rather, it is to trust in God and his promises and loving kindness towards us.
Our soul waits for the LORD: he is our help and our shield.

Psalm 33:20
How many times have we trusted in the strength of our own abilities and achievements and feel we can go it alone?
When things do not work out as planned, it may be a timely reminder to go back to basics: Where do you draw strength from? It doesn't mean we lose all confidence in ourselves. Far from it – we do have the capability and are capable of achieving success. But it does mean to consult the one who can make things happen.
Stay blessed.